Leather Journals in stock by fantasy writer T.K. Hall
Under Construction
Leather Journals with semi precious gem stones
10"x16" composition book comes inserted
Signed and numbered by fantasy writer T.K. Hall
Limited number as the fantasy novel trilogy "A Perfect World" takes off.

The inexpensive composition book is a perfect size for note writing, taking them to college, work meetings, or to have as a journal. They have found their way into a variety of places, among a variety of ages, and now in a variety of Leather Journal covers.

To replace a completed compositon book, insert a new one into the leather sleeves, place a leather strap toward the back of the book to hold the spine in place. Use the other leather strap to mark where you left off. Use the side leathers to tie a bow to keep it closed.
Prices will vary depending on semi precious gem stone used.
Get yours today!
---
---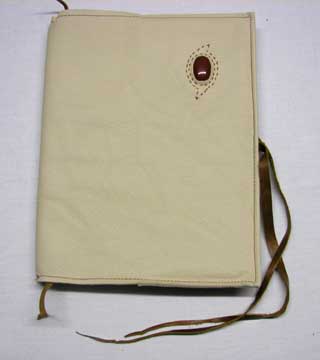 Click: light to brown journals
---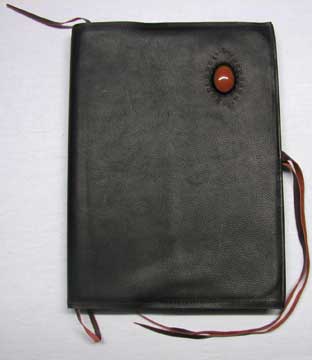 Click: black journals
---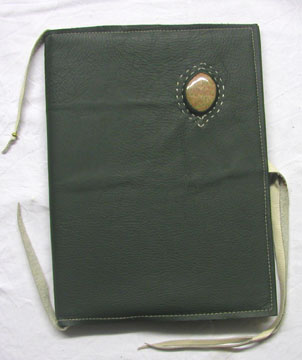 Click: olive to green journals
---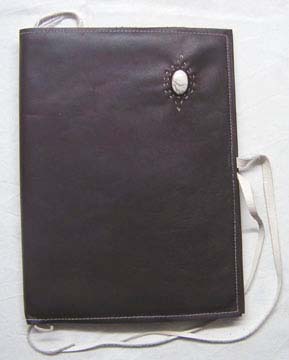 Click: purple - burgundy color journals
---
Journaling can be an important part of life. When a person writes their thoughts, it is putting it out of the abstract into the visual world that one can release it into the universe in front of them.
To help journalize:
List the right of what one might be looking at compared to the wrong of the subject. Weigh what has been written and look toward the right of the subject if it is good and for the best.
After a "Dream", leave space that later one can write in what may evolve at a later date. Was it a dream or vision?
Use the journal to jot quick thoughts, phrases, visuals seen, a scene. You never know when you might want to reflect back onto them. (Like a novel some day ;-)
Document important situations.
Just plain writing for fun!